Brief History of our Eye Hospital
Eye Hospital, Sitapur had a very humble beginning in a small town of Khairabad, 5 miles from Sitapur in the year 1926. Dr. Mahesh Prasad Mehray, founder of this hospital was Medical Officer incharge of District Board Dispensary at Khairabad. He was very much moved by the suffering of eye patients, as till then there was no suitable arrangement for treatment of eye patients. Gradually he started taking more and more interest in Eye work and started attracting eye patients from ali over Uttar Pradesh and surrounding provinces of India. Eye Hospital Khairabad became known all over India. The eye work expanded so much that temporary thatched huts had to be constructed in hundreds for accommodating eye patients. The eye patients started coming in large number. It became impossible to accommodate them in these temporary huts at a small town of Khairabad. The next best thing that could be done was to shift the hospital to District headquarter of Sitapur.
Foundation of present Eye Hospital building as laid in the year 1943. An Eye Hospital Trust was created with an initial donation of Rs. 10,000/- given by Srimati Naraino Devi. The good work was recognised by public and the Government grants and donations started coming.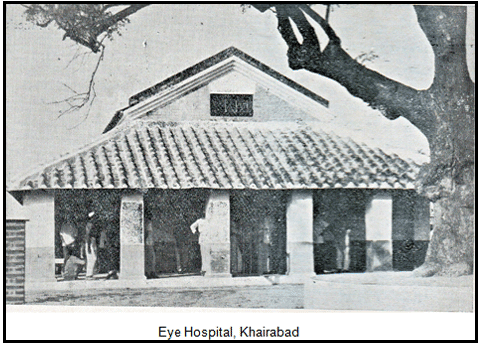 Main building of Eye Hospital Sitapur with a bed capacity of 192 General Ward patients and 37 Private Wards was completed in the year 1945 and the Hospital shifted from Khairabad to its new premises at Sitapur on Ist October,1945.
As the number of patiens went on increasing, more and more buildings were constructed. At present Eye Hospital Sitapur has a bed strength of 800 out of which 600 are in General Ward and 200 in Private Ward; This too does not suffice to cope up with the rush of patients during winter season, when the number of indoor patients easily goes beyond 1500.
This hospital has latest equipments and intruments for investigations and treatment. It is one of the best equipped Eye Hospitals of the World.
With growing facilities for eye treatment and demand of eye treatment centres, the State Government introduced Zonal Eye Relief Scheme in the year 1951 with a view to demarcate areas of operation of different eye organisations and Medical Colleges. Eye Hospital, Sitapur was originally given 23 districts of this province having population of 40 million for organising eye relief work. Eye Hospital, Sitapur gradually started district eye hospital in each district as branch of the parent body. The first branch hospital was started in Faizabad in the year 1949. Now each district within Sitapur Zone has got a fuJI fledged eye hospital. They are under the charge of highly qualified and experienced Ophthalmic surgeons and paramedical staff. Bigger branch hospitals have 2 or 3 surgeons. Every branch hospital has got all facilities for investigation and treatment. The bed strength of these District Eye Hospitals varies from 25 to 200 according to the requirement of the hospital.
Dr. Mahesh Prasad Mehray brief history (Founder of Sitapur Eye Hospital)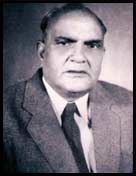 Dr. M P Mehray was in born in 1900. He hailed from Allahabad but he immortalized Sitapur and placed it on the map of the World.
Uneducated, suppositious, insensitive to health problems - The Poor and Rural population of India suffers from many ailments of the eyes, which in the absence of timely medical intervention result in blindness.
This lead Dr. M.P. Mehray to establish an eye Hospital in 1926 at Khairabad as a humble thatched structure in the interior of the town which was later shifted to another temporary structure on the highway 5 Kms from the District head quarters of Sitapur.The Sitapur Eye Hospital which is now very much more than a hospital performing Cataract operations, has branches all over the States of Uttranchal and Uttar Pradesh. It also houses an Eye Institute which is now known as Regional Institute of Ophthalmology. Sitapur Eye Hospital is a living monument of the greatness of Dr Mehray's work-vindication of the hidden potency of a missionary to produce big results from small beginnings.
Dr Mehray married Gopi Rani, the daughter of a leading Rai of Sitapur and after completing his medical education at the King George Medical College – Lucknow. He started his career at Khairabad (Sitapur) as Medical Officer of the District Board Dispensary and went up, step by step, with no adventitious gift of fortune but with the quality of Self-Help. From a middling medical practitioner, he became a leading eye-surgeon of India. An inner voice told him to relieve the sufferings of the ailing eyes, as all the God's gifts to man remained a closed book, without vision and perfect eye sight.
He went to Egmore (Madras) Ophthalmic Training Centre for specialisation in Ophthalmology and completed his education in Vienna in 1935. He learned as much as he could during his visits to foreign countries but never publicized his achievements. He allowed them to speak for themselves.
The Sitapur Eye Hospital is one of the biggest and finest Eye Hospitals in the country equipped with the latest apparatus in the field of eye surgery and facilities for treatment of all kinds of eye diseases at sub optimal prices. A dream came true and stands as a magnificient institution of great national value in Sitapur. Every brick of the institution is a monument in itself and has the imprint of Dr. Mehray's indestructive personality on it.
Dr. MP Mehray has been decorated with a lot of titles such as the titles of Ra i Sahib, Rai Bahadur, Padam Shri and Padam Bhushan. All of these titles and awards seemed to be of no consequence to the man who lived in a World, where serving the poor and diseased over self, and alleviation of human suffering,was the quintessence of life. To him, life was worth living so long as there was service to be performed for those who were in need and bodily ailments to be cured. Dr. B. C. Roy Award and Rustom Merwaniji Alpaiwalla award, that went to him unsought, could not add any more luster to his shining name which he had by then already immortalised in the service of suffering humanity. Dr MP Mehray died in the year 1974 leaving behind a legacy, that continues to serve selflessly the people and the Nation he loved so much.
If to live in the hearts one leaves behind, is not to die, then Dr. Mahesh Prasad Mehray is very much alive today